So every year I make something for Mike for Valentine's Day. I was going back and forth on what to make him. I finally settled on Snickerdoodles. Something that I have been wanting to make and since he's not a big fan of chocolate stuff I figured these cookies would be perfect.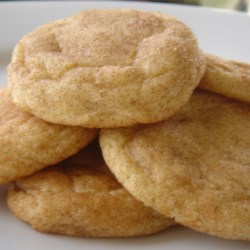 INGREDIENTS
1/2 cup butter, softened

1/2 cup shortening

1 1/2 cups white sugar

2 eggs

2 teaspoons vanilla extract

2 3/4 cups all-purpose flour

2 teaspoons cream of tartar

1 teaspoon baking soda

1/4 teaspoon salt

2 tablespoons white sugar

2 teaspoons ground cinnamon
DIRECTIONS
Preheat oven to 400 degrees F (200 degrees C).

Cream together butter, shortening, 1 1/2 cups sugar, the eggs and the vanilla. Blend in the flour, cream of tartar, soda and salt. Shape dough by rounded spoonfuls into balls.

Mix the 2 tablespoons sugar and the cinnamon. Roll balls of dough in mixture. Place 2 inches apart on ungreased baking sheets.

Bake 8 to 10 minutes, or until set but not too hard. Remove immediately from baking sheets.
My Review: This was an easy recipe to make. I haven't given them to Mike yet, so I don't know if likes them . But I have already sampled two cookies. They are yummmy. I was also pleased that the recipe actually made about 40+ cookies. Definitely something to add the keeper pile.