I was asked to bring a dessert to my cousin's house for Thanksgiving this year. I wanted to do something that was a twist (sort of) on Pecan Pie but wasn't as big as a whole pie. My family loves dessert so I knew that there would be a ton and this recipe would give a little taste...
Pecan Tassie
allrecipes.com


(not my picture I got it from allrecipes.com)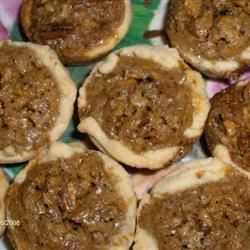 2 cups margarine
4 (3 ounce) packages cream cheese
2 1/2 cups packed brown sugar
3 tablespoons melted butter
1/2 teaspoon vanilla extract
1 1/2 cups chopped pecans

Directions:

1. Preheat the oven to 350 degrees F (175 degrees C).

2. In a medium bowl, mix together the margarine and cream cheese until well blended. Beat in flour, 1 cup at a time, until the mixture forms a smooth dough. Roll into small balls, and press into the bottoms and sides of tart pans or mini muffin pans.

3. In another bowl, mix together the eggs, brown sugar, butter, vanilla, and salt. Stir in the pecans. Use a spoon to fill each of the crusts 2/3 full with the filling mixture.

4. Bake for 15 to 18 minutes in the preheated oven, until shell is light brown, and the filling has puffed up. Cool, and carefully remove from pans.

Review: I decided to cut the recipe in half because it yields 5 dozen and I really didn't need to bring that many with me and I also only had one mini muffin tin. I highly suggest If you make this recipe having more then one because it takes forever otherwise. I thought they came out great and looked to me like mini pecan pies which is what I was going for....so I am happy :)